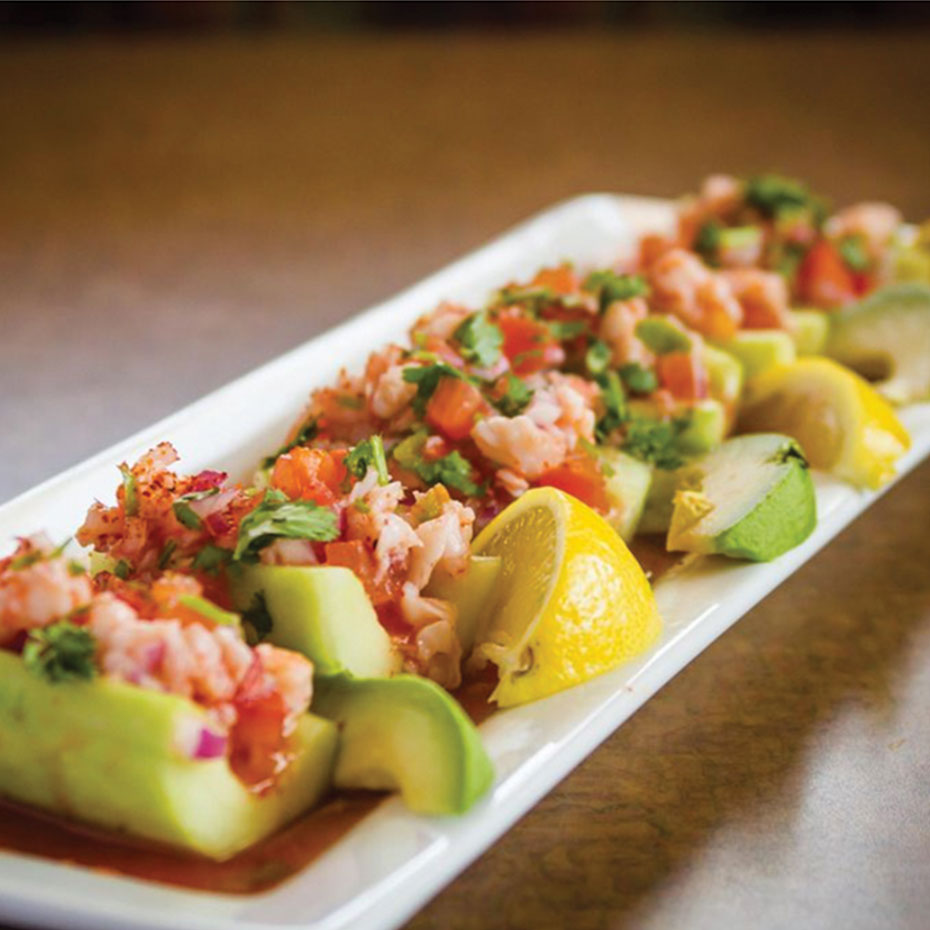 Springtime dining in the desert
Dine-in restaurants reinvigorate the social scene
By Alison Elsner
Challenging situations often define true character, and in the case of Coachella Valley restaurants, there are so many that have come out swinging after two years of uncertainty and disruption. There has certainly been a shift to reliance upon locally-sourced ingredients as well as increased availability of curbside pick-up and take-home orders. Restaurant owners have pivoted masterfully, and we've all made some discoveries along the way. That said, customers are chomping at the bit to return to the joy of dining on site at their favorite restaurants, many of which have now added and kept outdoor seating areas lending capacity and ambiance.
The restaurants below have persevered and become even more popular than ever, beckoning diners back for the social experience and sweet eats they crave.
Mitch's on El Paseo Prime Seafood
Mitch's on El Paseo is an example of promises delivered and expectations exceeded. This upscale eatery draws attention and keeps it solidly fixed with its inviting façade and its enticing menu concoctions.
Mitch's serves lunch and dinner, including prime seafood, sashimi, featured wines and sake, martinis and other craft cocktails. Its high ceilings and expansive interior showcase scenic mountain views and the desert skyline. With dining spaces on upper and lower levels as well as on the picturesque patio, there are also two bars with flat screen televisions, a sushi bar, eye-catching artwork and welcoming fire pits. Guests can often anticipate a greeting from friendly owners Mitch and Milissa Epstein.
You'll do right to start with bi-color beet salad or dynamite baked oysters. Dinner entrées from the sea serve up Chilean sea bass Misoyaki, jumbo shrimp and scallops, grilled Atlantic salmon and Canadian lobster tail duet, among others. Land selections include grilled beef tenderloin filet, bone in pork chop and roasted maple leaf duck, any of which is delicious with a side of shoestring truffle fries or sauteed spinach.
The wine list is top quality, with selections such as Rombauer zinfandel and Grgich Hills chardonnay.
The sushi bar with its own seating area is worth a separate visit to sample the crunchy shrimp, caterpillar and orange dragon rolls accompanied by hot ShoChickuBai sake or cold Urakasumi (Junmai Ginjo) sake.
Desserts are part of the cheer, with chocolate balloon cake, strawberry butter cake, baked apple dumpling and more. By all means, do not share.
760.779.9200, mitchsonelpaseo.com
Il Corso Palm Desert and Palm Springs
Two authentic yet contemporary restaurants double the delight of dining here in the Coachella Valley.
Il Corso Palm Desert, whose name translates to El Paseo (Main Street) in Spanish, opened in 2014 as a partnership between developer John Wessman and Chef Mario Marfia with a focus on recipes and flavors from Tuscany.
Cocktails such as the West Indies bomber and the prairie smash pair well with linguine pesto Genovese, striped bass, filet mignon with green peppercorn sauce, grilled lamb chops, roasted leg of veal, tagliatelle Emiliana (flat noodles with peas, ham and mushrooms) and numerous others.
Desserts are house made, meaning you will regret it if you don't try the tiramisu or the cannolo filled with sweet cream and cheese.
Il Corso Palm Springs is situated adjacent to the Kimpton Rowan Hotel in downtown Palm Springs, and, like the Palm Desert locale, the designfeatures wood flooring, tile, slate and marble accents and natural elements throughout.
Chef Claudio Marfia, Mario's son, has taken the helm here, bringing a more regionalized approach to the Italian cuisine, with selections such as pollo Vesuvio (bone-in stewed half chicken), cioppino, ravioli ricotta e spinaci and many others.
Cocktails are multi-faceted, with Uccello (rum, Campari, pineapple and lime juices), grapefruit basil martini and Italian lemon drop. Italian, French and California wines are offered by the glass or bottle.
Desserts are light and airy, with panna cotta, torta di cioccolato and cannolo Siciliano which includes powdered sugar and a drizzle of chocolate sauce.
The expression "like father, like son" definitely takes on new meaning.
760.341.6700, ilcorsopd.com
760.656.3770, springs.ilcorsodining.com
Burgers and Beer – Rancho Mirage
We're thinking the proprietors had to trim down the restaurant's name from "Burgers, Beer, Appetizers, Sandwiches, Hot Dogs, Salads, Chicken, Mexican, Kids and Plenty of Cocktails." Signature burgers feature mushroom, cowboy (with chili) and 25 others. Appetizers include onion rings, Hot Cheetos mozzarella balls and many more.
Sandwich fans can order the Philly steak and hot dog lovers can try the bacon dog and five others. Lighter options include fresh salads and chicken entrées, and the Mexican menu serves up chicken tacos, huevos rancheros and others.
Colorful cocktails include spicy Mexicali margarita, blue mango peach and bloody Caesar along with wine selections and draft, import and domestic beers. There's even happy hour Monday through Friday from 3 p.m. to 6 p.m.
The diet can always start tomorrow.
760.202-4522, burgersandbeer.com
Pink Cabana
Exotic and vintage, this clever space designed by Martyn Lawrence Bullard and housed within the Sands Hotel & Spa in Indian Wells is a modern take on the midcentury tennis and racquet clubs in Palm Springs.
It's all about the ingredients here, focusing on Mediterranean cuisine with a Moroccan influence. Cocktails are inspired by the Great Spice Route, featuring fig orange old-fashioned, cabana colada and pink lemonade (the adult version). Starters like balsamic fig burrata and handcutmaakouda (potato crouquette) prepare diners for entrées such as chef's cut steak and blue prawn pasta.
Don't miss Saturday and Sunday brunch and Monday through Friday lunch where the macrobiotic tagine will transport your tastebuds to Casablanca.
760.321.3772, sandshotelandspa.com/dining-bar
O'Caine's Irish Pub
Home to one of the largest selections of Irish beer and whiskey anywhere in the Coachella Valley, O'Caine's will convince you that you've stopped off in a quaint little watering hole in Dungiven, County Londonderry, the home of the current owners' ancestors in northern Ireland.
Specialty cocktails include Irish whiskey sour, Dubliner Manhattan, Tipperary and more.
Start with an order of Scotch eggs or rings of fire (onion rings smothered in beer cheese sauce). Then move on to the lamb Shillelagh (braised lamb shoulder) or an order of butties (potato bun sliders). For dessert be sure to try the Peaky Blinders PB&J (strawberry ice cream with a shot of peanut butter whiskey).
No matter what your heritage is, you are invited to raise your glass and exclaim "Sláinte!"
760.202.3311, ocainesirishpub.com