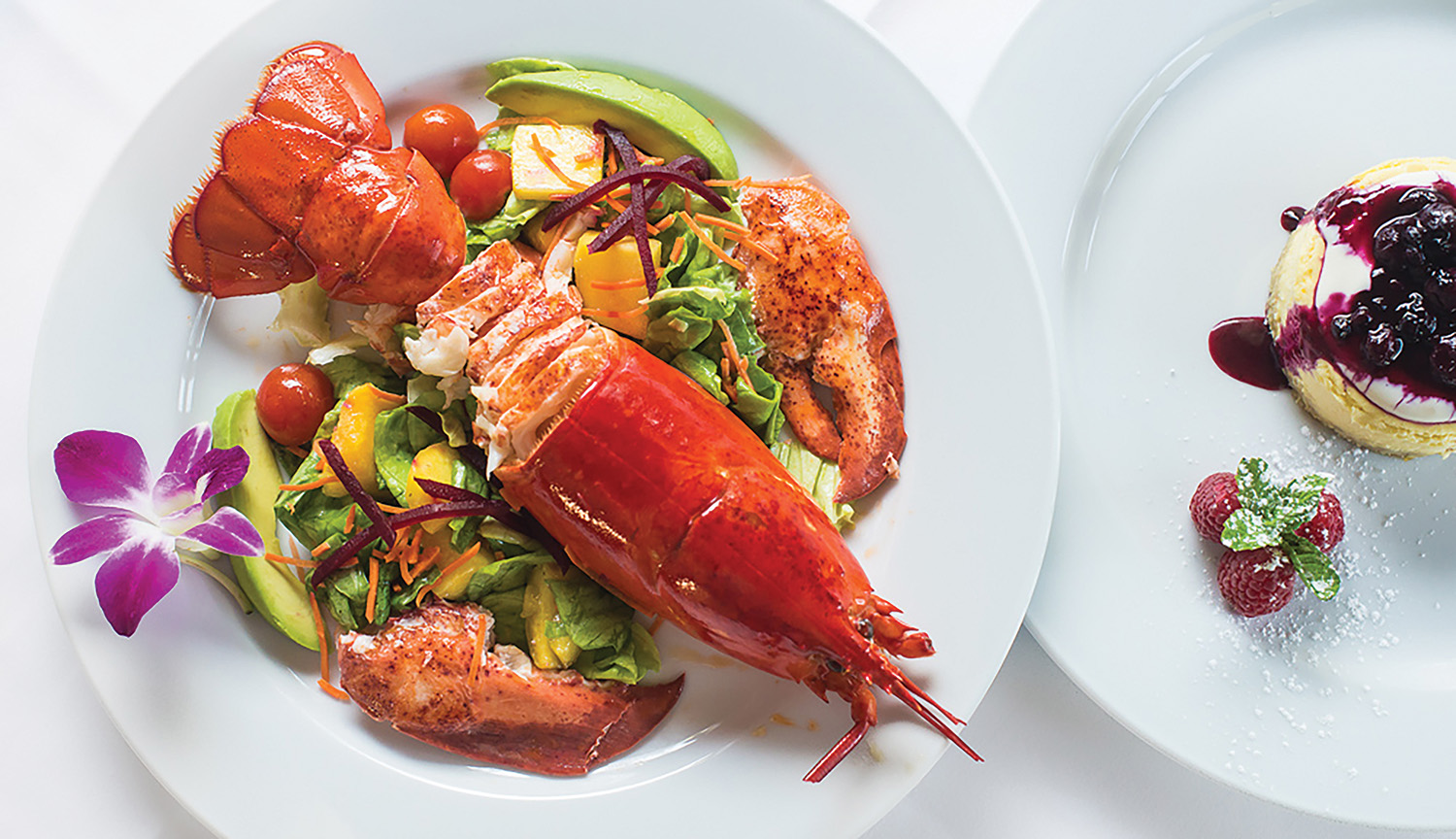 Winter dining in the desert showcases the best of the best
Dine-in restaurants reinvigorate the social scene
By Alison Elsner
Winter months in the Coachella Valley bring about ideal temperatures, first-class social activities and the finest dining. There's nothing cozier than settling in on a heated patio, drink in hand, lovingly protected by the surrounding mountains and gazing at the onyx skies above. Many chefs develop special holiday menus, serving unique dishes or recipes that only emerge towards the end of the year. It's a time to take advantage of the most superlative dining experiences that the desert has to offer. Below, you'll find our top picks for the ultimate holiday season lunch or dinner. Cheers!
Jillian's
Proprietors Jay and June Trubee have maintained Jillian's unparalleled reputation for over 28 years through transcendent flavors and an inviting ambiance. Jay's Culinary Institute of America training and travels in Europe and the United States continue to inspire his imaginative cuisine.
After entering the wrought-iron gates, guests find themselves in an enchanting garden,  listening to live music while savoring a drink in front of the fire pit.
A loyal following boasting a celebrity clientele appreciates menu offerings such as prime New York Steak, salmon in parchment and double-cut pork chop. Special Christmas Eve and New Year's Eve menus feature beef Wellington, roast duckling, and prime boneless shortribs.
Meals are completed with exquisite desserts including apple dumpling and warm gingerbread along with refined wine selections from Europe and California.
74 El Paseo, Palm Desert, 760.776.8242, jilliansfinedining.com
le paon 
Translated in French as "the peacock," Le Paon represents the beauty, vibrancy and enchanting drama of the plumed bird. This renowned fine dining establishment combines old world classic elegance with contemporary French cuisine. Owned by the Babai brothers for 40 years, executive chef Eddie Babai was trained in classical cooking at Le Cordon Bleu in Paris followed by the Culinary Institute of America in Hyde Park, New York.
An impeccably curated and extensive wine list pours smooth selections from Italy, Germany, France and California. Appetizers feature coquilles Saint-Jacques au gratin, frogs legs Provençal and beef carpaccio, and entrées include prawns St. Tropez, orgy of seafood, tournados Neptune, braised Kobe beef cheek, filet of venison and a tempting array of others. Desserts serve up the requisite yummy souffle, chocolate mousse cake, butter cake and more.
73399 El Paseo, Palm Desert, 760.610.5320, lepaonfrenchcuisine.com
Le vallauris

Located in a restored historic landmark, Le Vallauris sits in the heart of downtown Palm Springs nestled against the majestic mountains. Also popular with celebrities and "high society," diners can expect a one of a kind experience with traditional French food by chef Jean-Paul Lair while dining alfresco or indoors.
Start the adventure with smoked duck breast with Beluga lentil salad, orange and olive oil dressing (delightfully paired with Phantom Rivers sauvignon blanc Santa Barbara) or marinated eggplant with mint and oregano. For the main course, consider roasted veal filet or  pork tenderloin with Thai curry sauce, jasmine rice, baby bok choy and chutney (wonderfully paired with Alexander Valley Winery Syrah).
For the finishing touch, order up the poached pear with honey spice bread caramel sandwich paired with Nieport tawny port.
385 W. Tahquitz Canyon Way, Palm Springs, 760.325.5059, levallauris.com
Melvyn's Restaurant and Casablanca Lounge
Part of the quaint Ingleside Inn, renowned for old Hollywood guests such as Elizabeth Taylor, Marlon Brando and Marilyn Monroe, Melvyn's is as famous for its Caesar salad and steak Diane prepared tableside as it is for its convivial lounge scene. The hedged two-acre estate with antiques and architectural detailing was reinvented in the 1970s and revamped again in recent years.
The holiday meals are major happenings, with Christmas brunch featuring crab cake with saffron oil and prime rib with coriander. Christmas Dinner and New Year's Eve dinner (two seatings) serve Melvyn's chopped salad, Creekstone ribeye "Oscar" (10 ounces), black truffle risotto or lasagna, Maine lobster thermidor, maple doughnut and bacon bread pudding, Frank Sinatra cheesecake and more.
The chef-driven dining options can be complemented by a chilled martini or a pour of Old Fitzgerald 17-year bourbon.
200 W. Ramon Road, Palm Springs, 760.325.0046, inglesideinn.com/melvyns
The Edge Steakhouse at Ritz Carlton Rancho Mirage
Walled in glass and set cliffside, The Edge rests 650 feet above the desert floor with indulgent vistas below. Steak is sourced from around the world and aged in-house for 21 to 65 days. Meals are accompanied by crafted cocktails and an ambitious wine list.
The chef's signature dish is chorizo chickpeas served with toasted saffron and paprika. Other tantalizing selections cover Gulf of Mexico calamari with mustard greens; foie gras Torchon pomelo-tangerine salad with house-made brioche; and foraged mushroom and house-milled rice with molasses-smoked bacon crisps.
Mouthwatering steaks include the 22-ounce bone-in ribeye and the 48-ounce porterhouse cap,  served with potato purée with sweet roasted garlic and cantal cheese or brussels sprouts with guanciale. Desserts are a command performance, such as strawberry cheesecake and hazelnut praline semifreddo. Difficult decisions!
68900 Frank Sinatra Dr, Rancho Mirage, 760.321.8282,  ritzcarlton.com/en/hotels/california/rancho-mirage/dining/the-edge-steakhouse
Wally's Desert Turtle
A desert classic for everyone from Presidents to the society set, Wally's is synonymous with sophistication and luxury. Guests are swept away with the interior design by Steven Chase and Randy Patton, surrounded by beveled mirror ceilings, Peruvian artifacts and hand-painted murals.
Appetizers include golden Osetra caviar and escargots of Burgundy, followed by entrées such as Creekstone Farms slow braised short ribs, Catelli's Farm classic calves liver and Cacio e Pepe ravioli. A separate dessert menu features baked Alaska, crème brulée, and Wally's soufflés with a choice of chocolate, Grand Marnier, cappuccino, bananas Foster, apricot, raspberry, blueberry and cherries jubilee. They're best when paired with a dessert wine such as Chateau Suduiraut 2017 or Janneau Grand Armagnac XO Royal.
71775 Highway 111, Rancho Mirage, 760.568.9321, wallysdesertturtle.com
Not to miss:
Big Rock Pub
This rock-and-roll themed restaurant on Indian Springs 18-hole golf course is known for some of the best food in the valley, high-energy live music and even an outdoor beer garden. Don't miss the gourmet pizza, and be sure to check out the entertainment calendar on their website.
79-940 Westward Ho Drive, Indio, 760.200.8988, bigrockgolfandpub.com
Burgers and Beer
Here you'll find scrumptious and creative burger combinations along with hot dogs, appetizers, sandwiches, salads, chicken, Mexican, desserts and even breakfast. Beers include domestic, imported and draft, and wine lovers – there's plenty for you, too!
72773 Dinah Shore Drive, Rancho Mirage, 760.202.4522
79-815 Highway 111, Suite 101, La Quinta, 760.775.6494
burgersandbeer.com