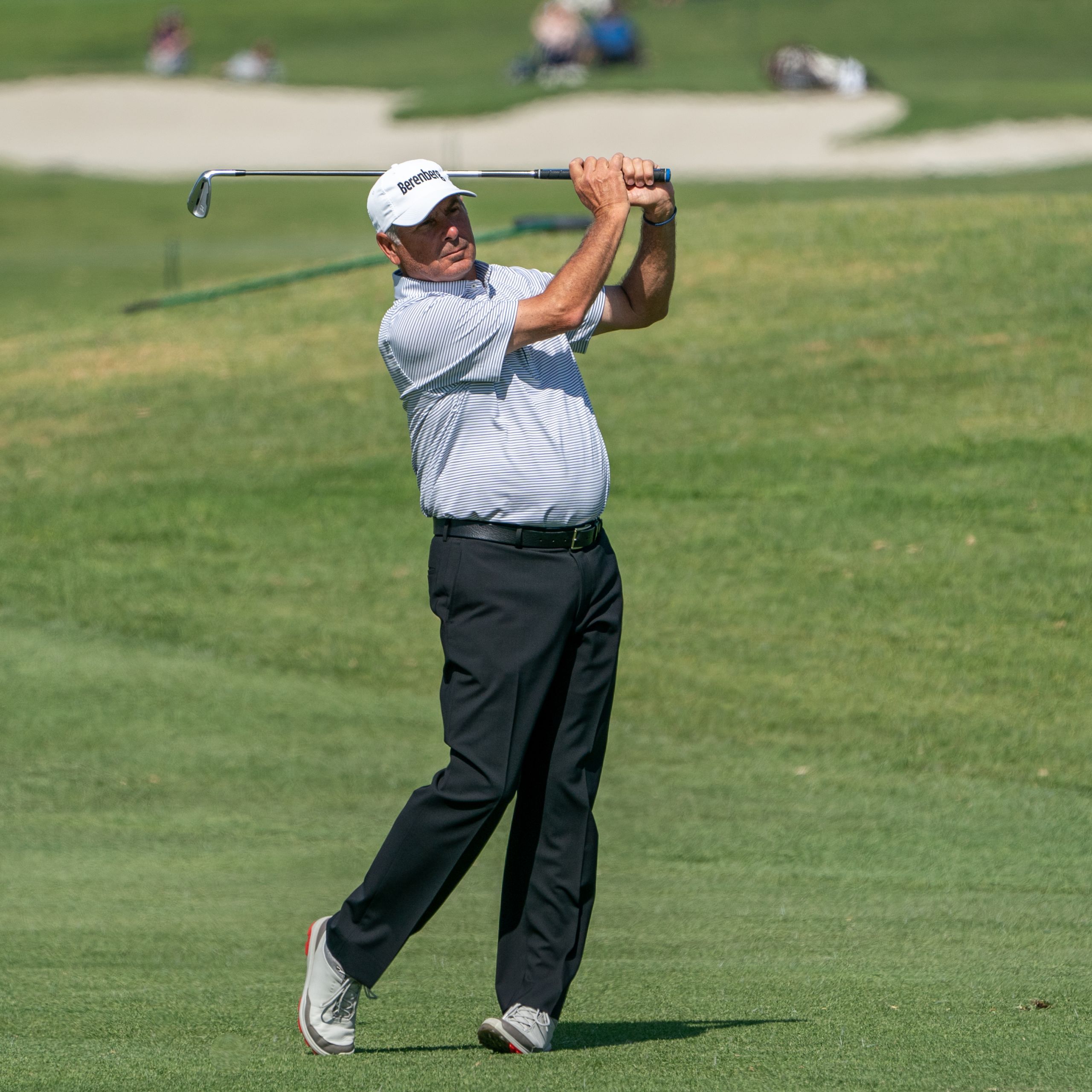 Thanks for the Memories
Powerful partnerships support six desert cancer charities
By Alison Elsner
For a brief moment, there was a void in the Coachella Valley with the departure of The Chevron Championship, a.k.a. the ANA Inspiration LPGA tournament, to Houston, Texas after 51 years.
The Galleri Classic swings to the rescue.
The PGA Tour Champions has not held a tournament in the Valley since the Gulfstream Aerospace Invitational took place at Indian Wells Golf Resort in March 1993. The debut of The Galleri Classic is about to end that dry spell. The inaugural event will take place March 22-26 on the Dinah Shore Tournament Course at Mission Hills Country Club, in partnership with Galleri as title sponsor.
The Galleri Classic will feature 78 PGA Tour Champions professionals, including World Golf Hall of Fame members, who will play 54 holes of stroke play for a purse of $2.2 million. The tournament will be the latest addition to the PGA Tour Champions' annual schedule.
Galleri is a cancer-detection test developed by GRAIL, a healthcare company whose mission is to detect cancer early through its blood test for cancers not commonly screened for, especially for those over 50 years old.
A portion of proceeds raised through tournament entries, sponsorships and ticket sales will benefit six valley charities dedicated to cancer prevention, support and treatment, including American Cancer Society (Palm Desert), Desert Cancer Foundation, Eisenhower Health, Hanson House, Pendleton Foundation and Shay's Warriors Life After Cancer.
The event is in experienced hands with tournament director Michelle DeLancy, who served as tournament director for the Boeing Classic, PGA Tour Champions event in Seattle for 13 years. She is currently one of the few female tournament directors, recognized for her career in sports marketing and all aspects of producing a multi-faceted tournament.
"We are looking forward to creating a new golf tradition in the desert, and I'm excited to get into the operational side of things with The Galleri Classic," said DeLancy. "We are proud to show how The Galleri Classic and its namesake cancer-detection test, as well as the beneficiaries from the tournament, can support the cancer journey at every step of the way."
As tournament week approaches, the tournament will be announcing pro players, who will include legends of the game and World Golf Hall of Famers 50 years old and over. DeLancy expects a strong field, many of whom have played The American Express (PGA Tour) in its previous iterations such as the CareerBuilder Challenge, the Humana Challenge and the Bob Hope Desert Classic.
Playing host to an annual stop on the PGA Tour and PGA Tour Champions events for 12 years, the Coachella Valley is distinguished for its rich golf history. Several current PGA Tour Champions professionals have won in the desert, including David Duval, who made history with his final-round 59 to win the 1999 American Express, Class of 2022 rookies Justin Leonard (2005 American Express) and Brian Gay (2013), two-time winner Corey Pavin (1987 and 1991), Mike Weir (2003), Joe Durant (2001), Fred Couples (1998) and Jay Haas (1988).
The Galleri Classic's ticket offerings for spectators include the following:
• $30 single-day grounds tickets (good-any-one-day grounds-only admission for pro-am rounds March 22-23 or tournament competition rounds March 24-26)
• $65 weekly grounds tickets (grounds-only admission good only for competition rounds March 24-26)
• $75 single-day clubhouse tickets (good any one day during competition rounds March 24-26, with access to clubhouse and upgraded dining and beverage options for purchase at the Champions Café inside the clubhouse)
• $150 weekly clubhouse tickets (good only for all competition rounds March 24-26)
A VIP spectator experience (sold as group and corporate packages) is available in The Champions Club on 18, an all-inclusive ticket option during competition rounds March 24-26 with complimentary food and full bar service and situated beside the island green at the historic, par-5 18th hole, next to the legendary Poppie's Pond.
For those seeking to play, golf enthusiasts can take part in a bucket-list experience of joining PGA Tour Champions professionals on the course. Each pro-am foursome is paired for a round of golf with a pro player on either March 22 or March 23 and receives a package that includes an invitation to The Galleri Classic pairings party on March 21, a valet parking pass, breakfast, lunch and on-course refreshments on one pro-am play day (March 22 or March 23), a premium gift package and a grounds badge providing access over the entire tournament week.
The tournament plans to have approximately 550 volunteers participating the week of the tournament, and all rounds of The Galleri Classic will be broadcast on GOLF Channel, reaching close to 70 million U.S. households and more than 170 countries and territories.
"GRAIL and PGA Tour Champions have a shared commitment to positively impact the lives of people and communities that we touch. At 50 years of age and older, Champions Tour players have likely had personal experiences with cancer and can inspire the next generation to improve health care," said Bob Ragusa, Chief Executive Officer at GRAIL.
Said DeLancy, "It's been a really favorable experience working with the community here so far. Everyone has been very welcoming, and we are delighted to align our efforts with the spirit of giving back that is so prevalent in the Coachella Valley. Mainly, we want participants and spectators to know that we are thrilled to collaborate with them and that The Galleri Classic is here to stay."
For more information, ticket purchases and pro-am and volunteer opportunities and availability, visit thegallericlassic.com.