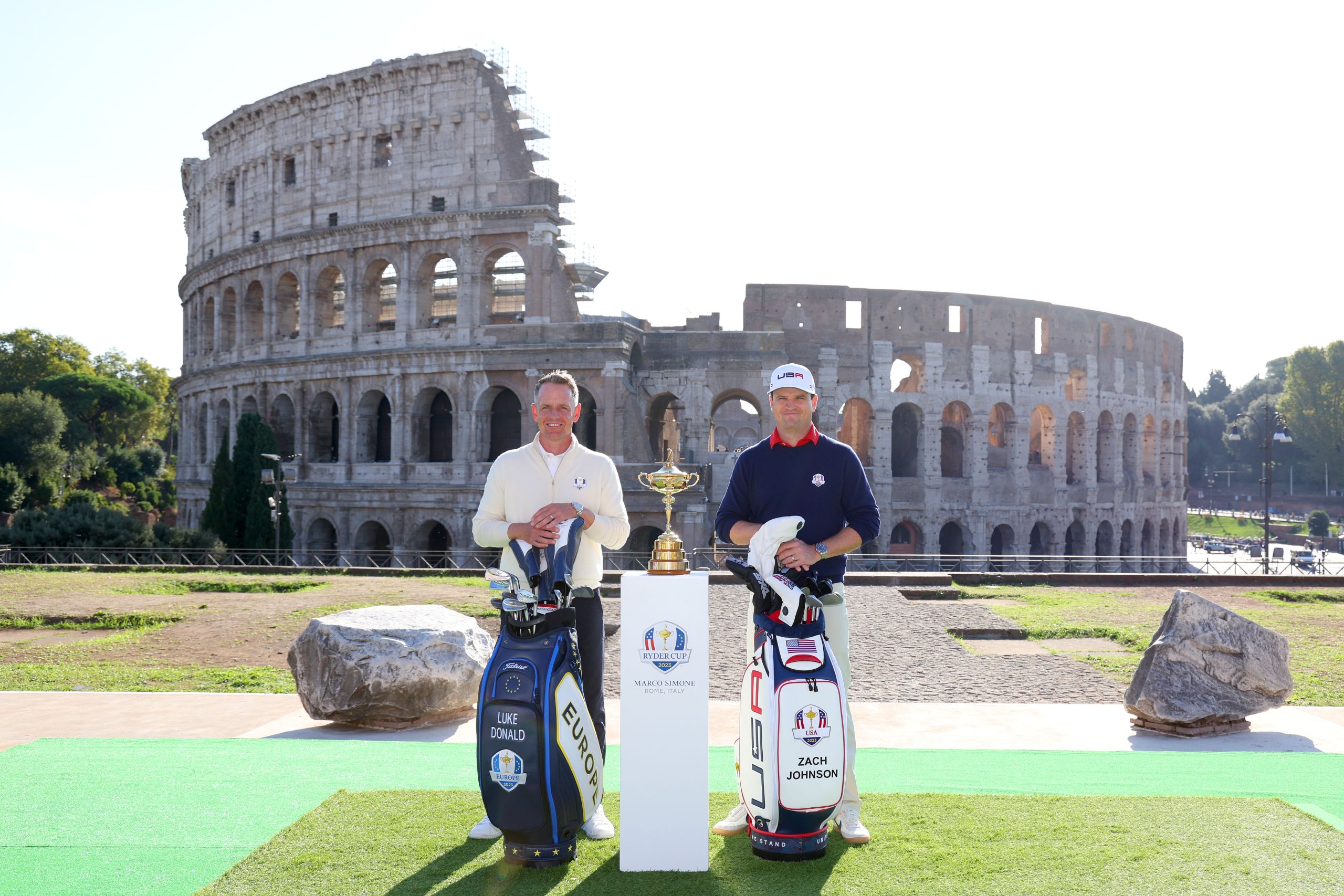 2023 RYDER CUP: A ROMAN HOLIDAY
By Dan Gleason
This is one tournament where pros compete not prize money, but for national pride.
This coming September 29 through October 1, partisan fans from both sides of the Atlantic will wildly cheer on their teams in the biannual Ryder Cup matches. As the top American pros square off against Europe's best, it is the first Ryder Cup to ever be played in Italy, at Rome's spectacular Marco Simone Golf & Country Club. This is one tournament where pros compete not prize money, but for national pride.
It all started in 1927, America professionals against England, with a cup donated by English businessman Samuel Ryder. The Yanks and Brits each won the Cup twice in the first eight years. But then the Yanks shut out the Brits from 1935 all the way to 1957 and again through 1983. It was so one-sided for America that most golf fans couldn't care less about the Ryder Cup. It was a ho-hum yawner, not even fodder for front-page sports news. Who cared?
Then in 1979, it all began to change when the British PGA started inviting players from all over the continent, including the likes of Spain's Seve Ballesteros and Germany's Bernhard Langer. The Europeans won two straight Ryder Cups in 1985 and 1987 and retained it with a tie in 1989. The rivalry was back on. It took losing to get American fans' competitive spirt spewing. In fact, since 1985, the Europeans are 11-6-1 while often playing the role of David against Goliath, winning several times against elite, highly favored US teams.
With this regenerated rivalry, there have been haunting chokes and unforgettable comebacks on both sides. There was Europe's "Miracle at Medinah in 2012. Down 10-6 the final day, Europe won eight of the twelve singles matches and tied one to retain the Cup and leave Americans everywhere shell-shocked and humiliated.
The most remarkable comeback for the USA was no doubt in 1999 at The Country Club in Brookline. Europe led by the same 10-6 margin that had faced them at Medinah. They seemed a cinch to clinch. The night before, team captain and golf historian Ben Crenshaw had rallied his American troops by reminding them that there was magic at this old club. That it was here in 1913 that Brookline former caddy Francis Ouimet shocked the world, winning the US Open by catching English legends Ted Ray and Harry Vardon the final day then whipping them in a Monday playoff.
In his press conference after the third disappointing day of matches, Crenshaw wagged his finger emphatically at the cameras and said in a prophetic tone that now sounds like a premonition: "I'm gonna leave you all with one thought. I'm a big believer in fate." He let that sink in a few beats then added, "I have a good feeling about this."
The American team caught fire in the morning, winning the first six matches and clinching in the afternoon when Justin Leonard–down four holes after ten–holed a 45-foot putt to close out José María Olazábal and secure a 14.3-13.5 victory as Leonard's emotional teammates stormed the green. It seems almost spooky that Brookline's #17 green is directly across the street from Ouimet's boyhood home.
This year, the Europeans surely should be obsessed with revenge after getting trounced in 2021 at Whistling Straits. The youngest American team in the history of the Cup roared to a 19-9 victory, the largest margin in a Ryder Cup since 1967.
And while the war between the PGA Tour and the Saudi-backed LIV tour rages on, the American team will have to make a decision about allowing LIV players on the team. The Europeans have already said that LIV players can make the team by earning points in various ways. But the Americans are still balking. US Team Captain Zach Johnson publicly warned Americans playing the LIV tour that they may not be eligible for the team. Spain's Jon Rahm reacted in a recent CBS television interview. "I hope the PGA of America and European Tour make a decision together," Rahm said. "I don't think it would be smart to have one team allowing LIV players and one not to."
Rory McIlroy has been one of the biggest detractors of PGA Tour players who defected to the LIV tour. But he recently admitted that LIV golf has made a positive impact on the professional game. In an interview in early March, he said, "I'm not going to sit here and lie; I think the emergence of LIV or the emergence of a competitor to the PGA Tour has benefited everyone that plays elite professional golf."
No matter which way that LIV controversy falls, one thing is sure: Everyone who loves the game and can't be there in person will be glued to their TVs as the drama unfolds in yet another historic battle for national pride.
Dan Gleason is an Arizona-based author whose fiction and non-fiction have appeared regularly in national publications.